Rebuild or establish credit with analysis and guidance from an experienced Certified Credit Counselor
Designed specifically for those with low credit scores and/or no established credit.
78 Point FICO Score Increase in 6 weeks
(Based on a real client's credit improvement after implementing my advice. Results not guaranteed, each situation is different)
Before Mycreditcounselor
After Mycreditcounselor
As a NACCC Certified Credit Counselor since 2011, I've reviewed hundreds of credit bureau records while helping clients prepare for settlement negotiation, federal loan counseling, or rebuilding their credit. I have also faced my own credit obstacles in the past due to medical bills, student loans, and unexpected collection accounts during difficult economic times.
So if you're looking for an online credit counseling service with a highly experienced certified counselor who isn't an agency, with years of experience helping hundreds of satisfied clients regain control over their financial life, you're in the right place.
I created this program with the knowledge that I gained in both working on my own credit over time, and helping others do the same. I will show you how to understand and apply the principles of building and maintaining healthy credit, teach you how to analyze your credit history, and give you the insider know-how on what to do about your derogatory listings (and how to prioritize tackling them).
Whether you are trying to qualify for a mortgage or any other credit-based lending decision, or want to build your credit in general – I'm here to help.
Just like my debt negotiation service, I do not charge upfront – payment is due at the time the service and deliverables are completed, in accordance with federal regulations.

Real results from implementing one of the positive credit building methods recommended in my service.
My Credit Counseling Method Involves The Following:
Line by Line Personalized Credit Report Review:
A full line by line review of a credit bureau report with complete analysis – sent to you via encrypted video format (as far as I'm aware, an industry first). I've found it's much easier for clients to follow along with a review of their credit history if it's done in video format, scrolling through each listing on their credit file and providing analysis in real time, rather than a written summary. 
Customized Action Plan:
Specifically tailored to your individual situation, providing you the knowledge and advice needed to increase the positives and decrease the negative factors affecting your credit; as well as how to improve important ratios like Credit Utilization.
Strategy Session:
A phone strategy session with me to discuss how to best implement your Action Plan and answer any questions from your Line by Line Credit Report Review.
Credit Building Guide:
A copy of my comprehensive step by step guide that shows you how to implement all of the techniques and strategies you need to improve your overall credit profile and score, used in conjunction with your Customized Action Plan.
Program Cost: $249
Due only at the time Action Plan, Credit Report Review, and Credit Building Guide are completed and delivered.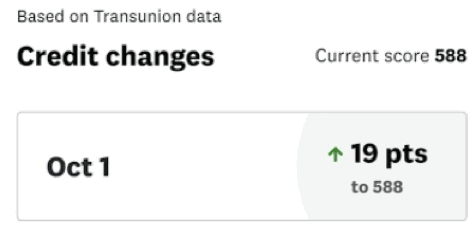 Real results from implementing a strategy covered in my service.
Credit counseling with me will provide the financial plan you've been looking for. I will be able to advise on the best debt relief solution (which might include debt settlement or debt consolidation or other debt management plan for your negative or derogatory listings).
Your credit counseling session includes a complete review of your credit situation, including negative items such as credit card debt and any other unsecured debt.
Real results from implementing a strategy covered in my service
Designed for those with low credit scores, or no established credit
If you already have a score of 750+ and are trying to get over 800, for example, this type of program is not for you. Some of the tactics that work in building up low scores can actually cause a negative impact if you already have a relatively high score.
For example – adding specific types of new positive credit is often very effective for those with a low score. Adding a new account for someone with a relatively high score can actually cause their score to (at least temporarily) decrease by shortening their average account history, among other things.
However, if you have a low credit rating, or no established credit; there are certain things that are causing this – it's not happening in a vacuum.
Whether it's negative listings, a lack of positive listings, inaccurate listings, inquiries, unbalanced utilization ratios, uneven credit mix, or other factors – your low score has specific identifiable causes that can be resolved.
My service is tailored specifically to those who are at or below the 600-650 range. I will help you establish healthy credit habits, teach you how to analyze your credit history and utilize ongoing credit monitoring, assist you in building new positive credit, and advise you on how best to tackle negative listings that I will classify for you as high, medium, or low priority to tackle – along with specific and effective strategies to reduce or eliminate them.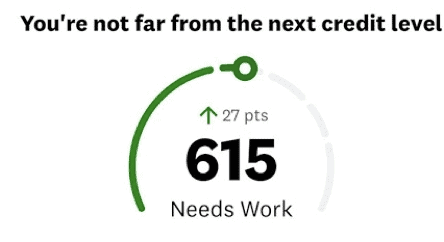 Real results from implementing another tactic covered in my service.
What About Credit Repair?
My service does not involve "credit repair" – which is defined as a dispute-based method of improving credit ratings by attempting to remove listings via disputing.
It is the process of disputing inaccurate, outdated, or unverifiable listings in order to get them removed or altered on your credit file. Much like debt relief, it's an industry that's had it's fair share of problems and bad actors.
I do not dispute credit listings for clients or offer any type of repair service myself. It can be an important part of a credit building strategy, and I include several resources about it and DIY disputing in my Credit Building Guide. However, credit building should not rely on just disputing – a holistic approach to creating and maintaining a positive credit profile involves much more than that.
However, when it is done correctly, it can be very effective.
There is little control that credit counselors or other agents have over listings that are accurate and not outdated per reporting guidelines.
It's the unverifiable part I mentioned above that is really where the best credit repair companies earn their keep. By disputing items and getting removals for listings due to technical reasons, by utilizing properly timed and targeted FCRA (Fair Credit Reporting Act) disputes, good companies can get listings removed. However, they cannot promise results or removals, and are prohibited from charging upfront fees under the CROA (Credit Repair Organizations Act).
While I do not offer this service myself, I have carefully vetted several service providers who do. Ones that provide the same standards at which I operate: full compliance with federal regulations, analysis by competent and experienced industry professionals, and a history of obtaining results. They have not been easy to find – it's taken me years to locate and vet companies that I would trust enough to refer my clients to, and that I feel are operating the way agencies are supposed to operate under the CROA.
In some cases, my Credit Counseling program will be all you need to get into good shape credit-wise. For others, you may benefit from also going through an additional credit repair process. If it looks like you would be a good candidate after going through my program, I will make that referral.
You can start taking steps to improve your credit today – call 937-503-4680 or email me at support@mycreditcounselor.net to begin your credit building journey!
Disclaimer: Andrew Weber C.C.C. and MyCreditCounselor do not provide credit repair or credit restoration services. Results are not guaranteed with regard to score increases or the amount of time it they could take. Success depends on client's willingness and ability to execute components of their Action Plan as well. Reducing the credit impact of negative listings sometimes involves paying them off or settling them. Improving Credit Utilization involves paying down balances. The client's ability to put resources towards these processes will impact their progress if negative listings and collections are a major factor contributing to their low score. These often have to be tackled in order of priority (which I will help you define) over time, as resources allow.